The first episode of the The Flintstones aired in 1960 and the programme ran for six seasons until 1966. It was a popular TV staple in many countries, lasting well beyond the 60s and was still a regular on TV in the UK still when I was growing up in the 1980s. As such, it represents the perfect kind of nostalgia fair that has the potential to make a popular IDEAS release.
The set is based on the LEGO Ideas fan design of Andrew Clark and the finished model is broadly similar to his original design, containing Fred and Wilma Flintstone's house, their car and their neighbours Betty and Barney Rubble.
Opening the box reveals six bags containing 748 pieces, as well as the usual stylishly presented IDEAS instruction book that contains background information on the designers and the design process.
The first bag builds the Flintstones' car and the Fred and Wilma minifigures. It's a good representation of the stone age foot-powered vehicle featured in the TV series. The only slightly fiddly thing is stretching the large piece of fabric over the top to form the roof. Purists might object to the use of such a large piece of material, but it creates exactly the right look. Also included is the large dinosaur rib that Fred orders at the drive-in during the title sequence and which causes the car to topple over.
The second bag contains the parts to build the base of the house, while the third builds the structure up to almost its full height. This part of the build is satisfying enough, but doesn't contain any particularly interesting techniques. Building bag four turns a relatively rectangular building into something a bit more rock like through the addition of curved sides and also adds the tree. Then it's time to fill in the interior with a sofa, lamps, telephone (including clever use of croissant piece) and the "television".
The final bag adds the roof, which is cleverly sloped, plus the Flintstones postbox , which includes a preprinted piece labelled with a the homeowner's name 'carved' into it.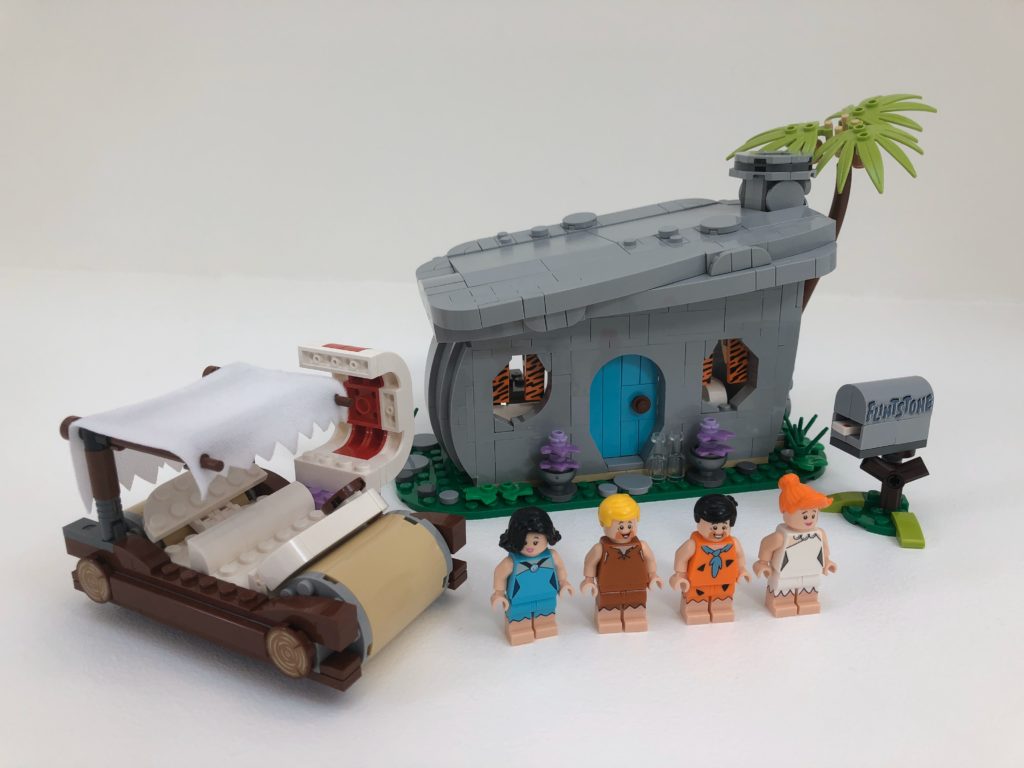 It's a fun build overall, but it is disappointing that the set doesn't include Fred and Wilma's daughter Pebbles, or their pet Dino.
Summary
Richard's verdict: 7/10 – a nicely executed model that will satisfy fans of the original TV programme and provide some good play value for younger fans.
Tom's verdict: 8/10 – Very cool.
Released: March 2019
Number of pieces: 748