In June, I finally achieved my childhood dream of going for a holiday in Billund, the home of Lego. As a child in the early 80s, my dream for many years had been to go to Legoland. Back then, the Billund park was the only one in the world, with Legoland Windsor not opening until 1996. Our family didn't get to go on many European adventures and, sadly for me, Denmark was not a destination chosen by my parents. Instead, I would have to wait until I had my own family before I would finally make the pilgrimage to Billund!
Ryanair offer relatively cheap flights to Billund from London Stansted Airport. If you can put up with the poor service and the numerous additional charges, then it's a good option for getting there. Return flights for the three of us started out at about £160, but ended up costing nearer £260 once I'd added on hand luggage for us all and one hold suitcase (so there was room for all the Lego purchases!).
Travel and accommodation
We took the 19:35 flight on a Friday night, arriving in Billund at 22:10, a flight time of around 90 minutes. Arriving so late, we just wanted to get straight to our accommodation. Fortunately, Billund airport is extremely close to the town and the journey to our accommodation (by public bus) took about 10 minutes.
We stayed in one of the cheaper Legoland accommodation options – the Legoland NINJAGO Cabins. These are basically static mobile homes decorated with Ninjago decorations. They have two bedrooms (a double bed in one and a double bunk in the other), with a living area featuring a small kitchen and a shower room/toilet. The accommodation was basic, but clean and fun.
When it was morning, we were able to explore the Legoland camp site a bit more. There are a lot of the cabin style accommodation, as well as pitches for camp sites and camper vans. Scattered throughout are small play areas and Lego sculptures. There's also a restaurant and a small shop (snacks, supplies and Lego) on site.
Day 1: The LEGO House
On the Saturday, our first full day, we went to visit the LEGO House. We walked there from the campsite, which took about half an hour and went via the Sculpturepark. This is full of fun and interesting sculptures.
Before arriving at the LEGO House, we weren't sure exactly what to expect. Descriptions seem to be largely inadequate and it is only when you actually go there and try it out that you realise what it's all about. It would be tempting to describe every activity in there, but I don't want to spoil the surprise completely. Instead, I'll highlight a few example activities.
Upon arrival, you are issued with a paper wristband that contains an RFID tag unique to you. In all the activities, you can wave the wristband near to a sensor so that the House knows who is there. Then, using a smartphone app, you can download pictures and videos of your activities throughout the day. This works REALLY well.
After putting on your wristband, you ascend a staircase by the "Tree of Creativity". This is a giant LEGO tree whose huge branches hold a variety of Lego displays based on past and present product lines.
The first area you arrive in is the Masterpiece Gallery which features three massive dinosaurs – one built from Duplo, one from standard LEGO bricks and one from Technic. Around the outside of the room are display cases featuring models build by some of the incredibly talented fan community. These change every few months, but "Masterpiece" is a suitable noun!
Staircases lead down from the gallery area into the different zones – the red, green, blue and yellow zones. In each of the zones, there are a number of activities that can be undertaken. Examples included:
Building a fish out of Lego, then scanning it into a giant virtual aquarium. Using your wristband, you can download the fish to your phone.
Making a stop motion video out of a Lego scene, which can again be downloaded via the wristband.
Driving Mindstorms robots that interact with a giant projected floor and carrying out missions to save virtual minifigures.
Building cars and racing them down enormous ramps in an effort to get them to jump through hoops.
In isolation, these activities might not sound particularly impressive, but they are all executed incredibly well and the overall feeling is that of moving from one joyful activity to the next.
Just a few of the many activities in the LEGO House
On the way to lunch, we stopped off at the History Collection in the basement. This has a small museum telling the story of Lego and a vault with an incredible number of sets on display. There is also an activity in which you can create a virtual shelf of all the sets you wished for chosen from all the sets ever made.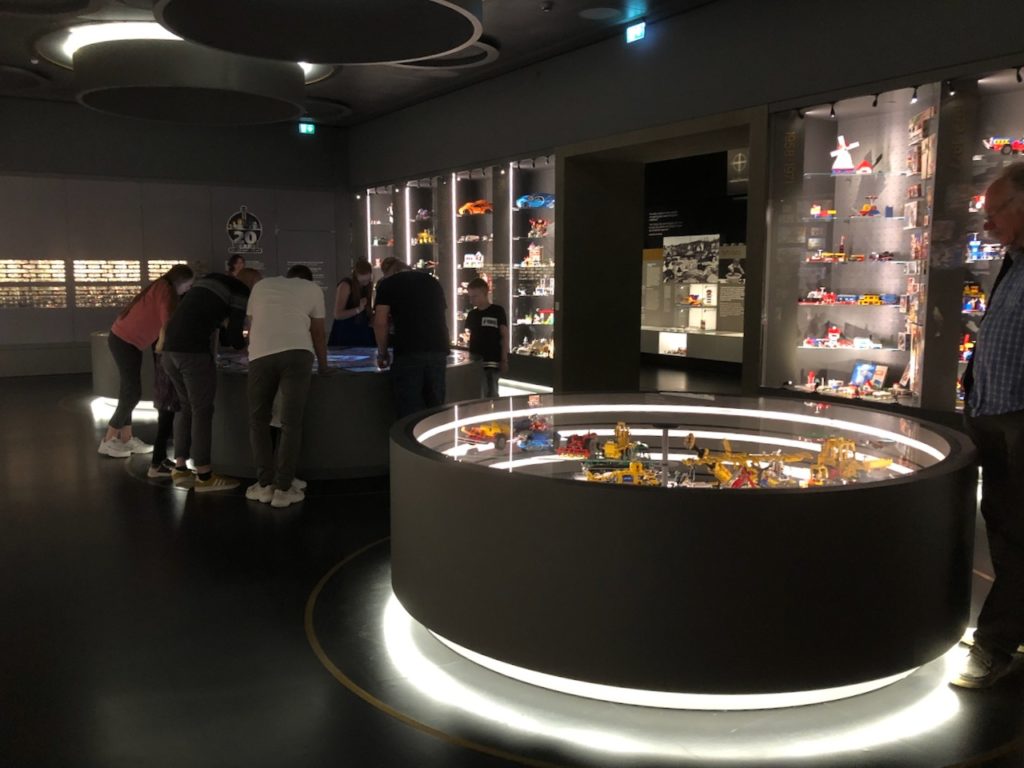 For lunch, we couldn't resist trying out the MINI CHEF restaurant. This was very busy and it is advisable to book in advance or, at least, earlier in the day to ensure you don't get turned away. On being shown to the table, each customer is given a small bag of Lego elements from which to "build" their order. These are then scanned into a machine on the table and the order is sent to the kitchen. When the order is ready, you go to collect it from a robotic conveyer belt. It's all very clever and extremely well implemented. However, we were left disappointed with the menu options which were quite restrictive for the adults, never mind the 7 year old child in our group. I can only assume that Danish children are much more sophisticated, with far more refined palettes than the British children I am familiar with. I would certainly encourage you to check out the menu in advance.
We went back to the main LEGO House activities after lunch, but by around 5pm it was clear we were not going to get round everything in one day. We had started out at 10am and the house was due to close at 7pm, but we were starting to flag. However we'd had such a fantastic day that Rachel (the least Lego enthused of the lot of us) suggested that we take advantage of the annual pass upgrade option for our tickets and come back the next day for a second attempt. This is what we decided to do, stopping off at the shop on the way out. The shop, by the way, is large and has a number of LEGO House exclusive sets:
21037 LEGO House – an Architecture series model of the building. See our review here.
4000026 Tree of Creativity – a model of the enormous tree that runs up the centre of the entrance area.
40366 Lego House Dinosaurs – a much smaller version of the three dinosaurs found in the Masterpiece Gallery.
We ended up buying all three, though they are not small sets. In fact, we spent so much in that shop that we qualified for three free gifts with purchase. There was also a small Pick a Brick fish tank set that was given away free to holders of the Billund "Be Happy" pass which is given out free to tourists.
Finally exhausted, we walked back to the accommodation, stopping off at the ABC Lavpris supermarket near the LEGO House to get some supplies on the way.
Day 2: Billund, LEGO and back to the House
Before going back to the House, we spent a couple of hours getting a feel for Billund town centre. The town is completely driven by LEGO's success, with an enormous proportion of people who live there employed by the company. Because LEGO's growth has exploded in the last 2 or 3 decades, there are also a lot of modern buildings in Billund, but the architecture is very attractive. Whilst there are other things to look at in the town centre – for example the Teddy Bear Art Museum – the LEGO House dominates and you can't wander far without coming across LEGO office buildings, or founder Ole Kirk Christiansen's house. Just up from Ole's house, we stopped by Billund Bageri (bakers) and bought some nice pastries to have with our packed lunch.
We then took a bit of a walk and ended up accidentally exploring some of the LEGO campus. It was a weekend, so very quiet, but all seemed pretty open. A new campus is currently being built and part of it opened a few months after we were there.
We got back to the LEGO House around lunchtime, so the first thing we did was take the elevator to the lift. On top of the building are a range of different play areas linked by small staircases. Unfortunately for us, quite a few were undergoing renovation when we were there. There were also a few tables for eating lunch.
The LEGO House roof playgrounds
Then it was back inside the LEGO House for another afternoon of activities, but I wrote about that yesterday! At the end of the day, we spent a bit of time going up and down the steps on the side of the building.
Finally, we ended the day at Mama's Pizzeria, directly opposite the LEGO House.
Day 3: Legoland… and home…
Our final day was spent at Legoland. And I have to say that it was a little bit of an anticlimax. It's not that it wasn't a great day out, just a combination of the fact that the LEGO House was so much fun and the fact that we'd previously been to Legoland in Windsor and in Florida. The Legoland in Billund is the original… but it's also smaller than the Windsor one and has many of the same rides. But let's not be negative – we still had a really enjoyable day out and it was still a childhood dream realised for me!
Miniland is one of the things that is different, featuring lots of Danish recreations instead of (unsurprisingly) the British ones you get in Legoland Windsor. The Copenhagen waterfront has to be one of the best.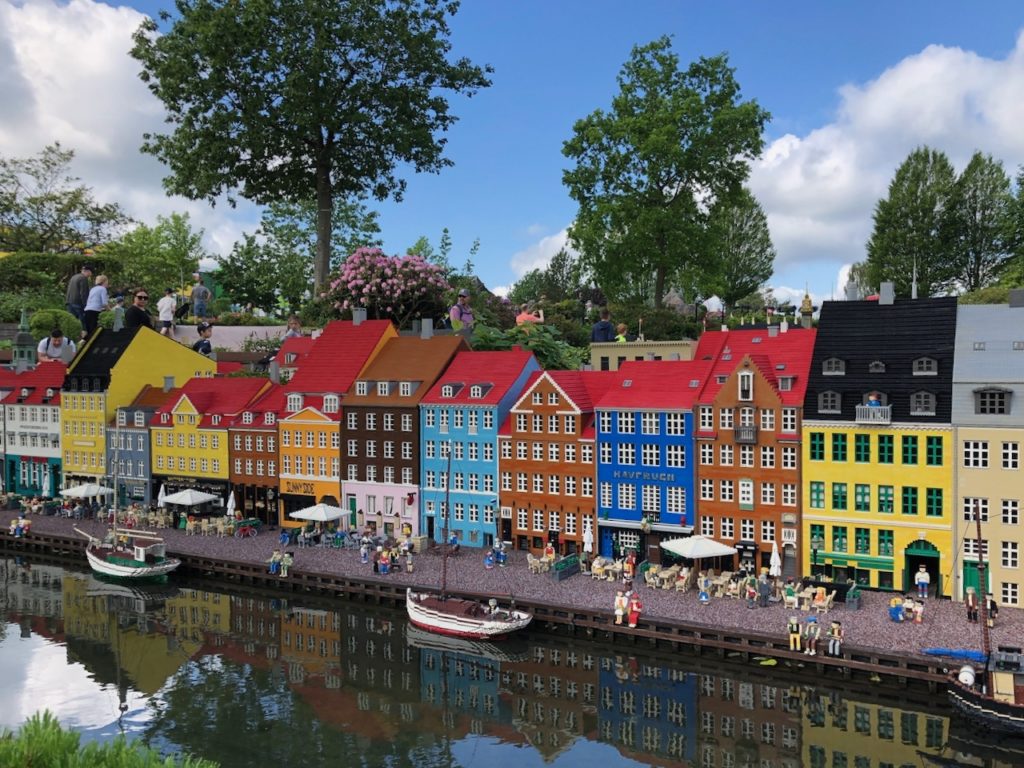 There was also a Star Wars Miniland, but at the time of writing, it had been announced that these were going to be removed from all Legolands due to the end of the licensing agreement with Disney.
There is a good range of rides for everyone from the most timid (us) to the thrill seeker. There's also a 4D cinema showing 3 different films in which you wear 3D glasses and get water sprayed at you periodically! It's actually very well done.
At the end of the day, we exited the park via "The World's Largest Lego Shop" and caught a bus from to the airport from just outside the park (a 10-15 min ride). Then we flew home on the 10:35pm flight back to Stansted.
In the end, we'd had a fantastic weekend. Billund was lovely, Legoland was fun, but the complete surprise was just how good the LEGO House turned out to be. Well worth a visit.